Get to know Dr. Bill Sisson: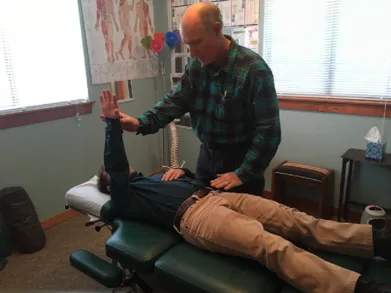 Dr. Bill Sisson, D.C. is a Chiropractic Physician who practices Applied Kinesiology. Applied Kinesiology is the practice of using muscle strength testing as a tool for functional neurological evaluation. Applied kinesiology can be used to identify and treat problems that lead to symptomatic presentations such as musculoskeletal imbalances, physiological imbalances, nutritional deficiencies or excesses, imbalances in the body's energy pathways and many other health concerns. Dr. Sisson uses precise positioning for hands-on manipulation and/or adjusting instruments to deliver chiropractic adjustments. He also employs vitamin, mineral and herbal supplements, as well as homeopathic remedies all of which are designed to enable the body to heal itself without surgery or medication.
Personal Background:
I am a Wilmington native and graduated from New Hanover High in 1965. I completed my BA at Ohio Wesleyan University in Delaware Ohio in 1969 with a History major and a minor in Spanish. I then did a year of post graduate work at the University of Wisconsin at Madison in Latin American Studies. I then studied Agricultural Economics at the University of California, Berkeley. After a year I decided to go back to Latin American Studies. I transferred to UCLA and completed my MA in 1975 with a specialty in planning. In the process I found a mentor in the School of Architecture and Urban Planning who had worked in Latin America and decided that Planning was a good way to pursue my goal. I received my MA in Planning from UCLA in 1977. My group conducted a Study for Los Angeles County foras our planning project on the recreational carrying capacity for Catalina Island continues to be a pioneering work in this field.
After school I secured an internship with the LA Redevelopment Agency working there for several months until a position in Los Angeles City Planning Department opened up and I was lucky enough to get it. I worked for LA for 4 years until politics intervened and undid 3 years of work trying to help to revitalize Hollywood. Unbeknownst to me, I was supposed to credit the office of the councilwoman for the Hollywood District for my work and when that did not happen she had me transferred to the Outer Mongolia of the Planning Department.
About that time I met my wife Joy and after the stress of the planning situation we decided that I could best help others by pursuing an interest in health care. My interest began when I got my massage license to help earn money during grad school. A friend had entered Chiropractic College and when I heard about all the things he was learning and particularly about the seminars he attended I realized that he was on the cutting edge of health care which is where I wanted to be.
After a year of completing the dreaded science prerequisites that I had avoided in college I entered Palmer College of Chiropractic – West in Mountain View CA. In 1985 I graduated and faced the chore of starting a practice. I knew I was too old and too ornery to work for anyone else. By that time we had our first son Misha and I knew that, given my circumstances, opening a solo practice in CA would be cost prohibitive so we moved back to the last place to which I imagined I would ever return, my home town.
I opened my doors in 1986 on Wrightsville Av. In 1988 our second son Ari was born and I moved my office to its present location on Oleander Dr. I am certified in, and have practiced Applied Kinesiology for over thirty years. I believe it affords me the most complete system for evaluating and addressing the body's needs. Along the way I have become certified to use acupuncture in my practice by the North Carolina Board of Chiropractic Examiners and hold a certification as a Chiropractic Sports Practitioner. I have also been named adjunct professor in the Department of Natural and Traditional Medicine at the Mariano Grajales Medical School in Holguin, Cuba and have taught in Cuba, Argentina and Mexico.
I love my work and I love my patients. You all keep me going and make my profession more than just a job. I love exploring new areas of knowledge and hopefully putting that knowledge to work helping all of you improve the quality of your life.